Note: Article Updated, 14 January 2017
Since the war in Yemen* began last year, civilians have paid (and continue to pay) a heavy price – tragically, more than 6,800 people have been killed and 35,000 injured since March 2015, the majority in air strikes by a Saudi-led multinational coalition that backs the president.
The fate of the animals at Taiz Zoo, Yemen (and the livelihoods of the humans that try to manage and protect the zoo) has been horrific; their daily needs are only just being met. Taiz Zoo's dilapidated structure holds nineteen lions, (possibly after DNA verification, these might prove to be very rare Barbary lions, or 'Atlas' lions – extinct in the wild) and twenty-six Arabian leopards and two recent cubs (there are only believed to be 90 Arabian leopards left in the world), plus birds and other species – all 280+ animals in Taiz Zoo are suffering:
Update: "War-Torn Yemen Is Letting Its Zoo Animals Starve to Death," National Geographic, 21 December 2016
There are still ongoing plans to get the zoo animals out, but it requires co-operation within a war zone, international permits perhaps, lots of patience and the necessary funding – the chances of any co-operation in the current climate means this is a struggle.
As of the end of December 2016, A Lion's Heart (A Lion's Heart – web-site link or, A Lion's Heart PayPal link) took over the lead for fundraising for Taiz Zoo – A Lion's Heart is a USA based not-for-profit, 501(3)c registered charity.
There is also a GoFundMe page – "Save Taiz Starving Zoo Animals" that has been launched by A Lion's Heart supporters,  Barbara Stiles and Breeze Azrael and is acknowledged by A Lion's Heart as an means to donate towards A Lion's Heart's support of Taiz Zoo.
Both A Lion's Heart (fb link) and SOS Zoo and Bear Rescue (fb link) and dedicated individuals are working tirelessly to achieve the short term feeding and longer term goals to help the zoo's animals and the zoo workers (their daily existence is also dependent on the zoo's on-going survival/funding).
In the face of this adversity, in October 2016 two Arabian leopard cubs (one boy, one girl) were born into the uncertain environment of Taiz Zoo.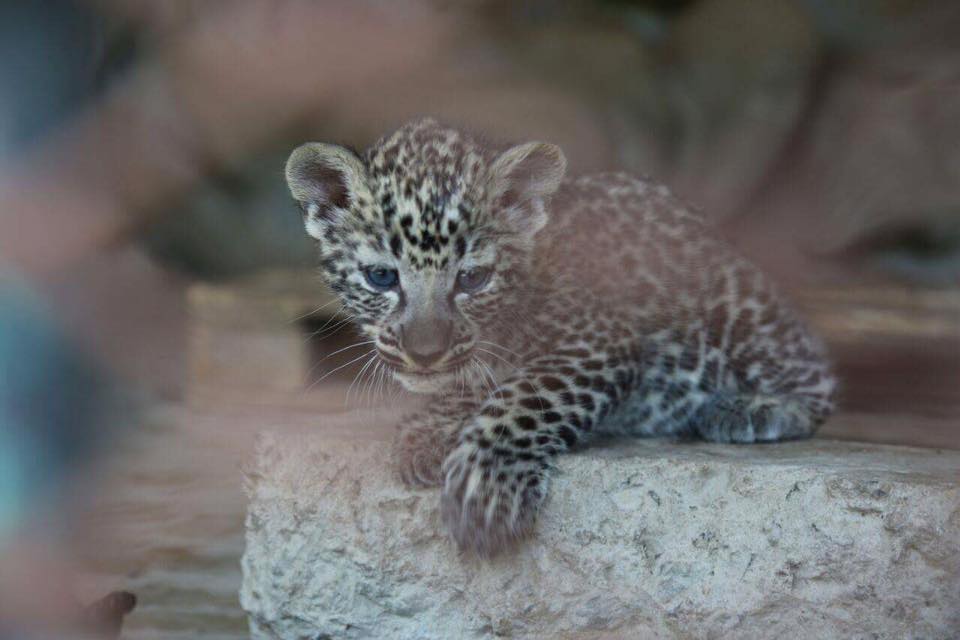 Rare, "blue eyed"  Arabian leopard cub – Taiz Zoo, Yemen –  October 2016, SOS Zoo and Bear Rescue
You can help!
Back in November 2016, there was a chance (now closed) to name an Arabian leopard cub (or indeed, both cubs), in exchange for a donation towards the costs (zoo keepers, vets, guards and feed) to look after the zoo's current occupants, plus pay for longer term relocation/sanctuary – the names chosen from the list submitted for the two cubs will be published on SOS Zoo and Bear Rescue's fb page in due course – the donator(s) that submitted the name(s) will receive a certificate and picture of the cub(s) they named. The cubs' given names will endure on the cubs' legal paperwork (ie CITES certificates) – what a great start to the New Year and honour it would be to name such a precious and rare cub!
Further donations (via A Lion's Heart (web-site link)  or, A Lion's Heart (PayPal link)) will aim to cover current Taiz Zoo running cost (some $4,000 per week is needed), plus future transport and air lift arrangements, intermediary sanctuary, with a longer term aim to fund a new open air sanctuary for the animals when the war in the Yemen finally ends.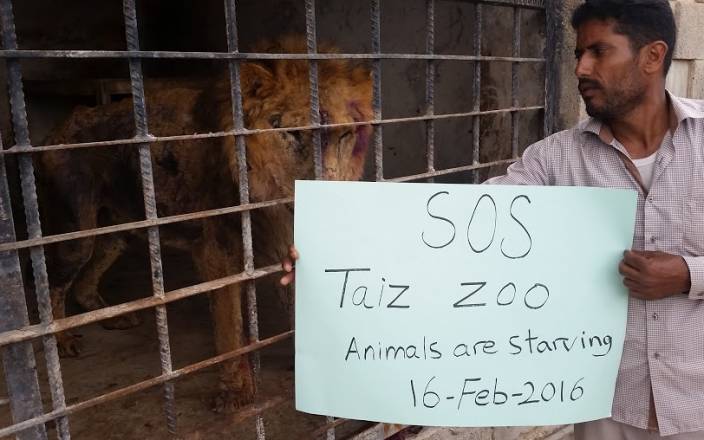 Please help the animals of Taiz if you can
*Situation in Yemen
"It was caused by an oil crisis. Oil was extremely cheap and Yemen could not pay off its debts. The people benefitting most from the low prices were the pirate/mafia/gangster profiteers who would buy the oil and sell it overseas for a huge profit…mainly in the South of the country run by the Houthis. Yemen was advised to raise its oil prices, slowly, with lots of information about the raises in order to start paying off its loans. It did not take this advice, and made one enormous rise in pricing….tripling the cost of oil overnight. This caused the Houthis, under Iran's (Shia) influence to rise up against the government and try and topple it. The Government fled to Saudi Arabia (Sunni) which is anti-Iran. The conflict has become basically Iran against Saudi Arabia and the West, vying for power over this strategically important country. In the middle are the men, women, children and animals."
Yemeni President Abdrabbuh Mansour Hadi is exiled in the Saudi capital Riyadh, meanwhile Houthi and pro-Saleh forces control major cities and strongholds.
Further reading:
"'One week from death': Two tiny leopard cubs become the latest additions at zoo in war-torn Yemen where supplies are so low the animals are days away from starvation," Daily Mail, 8 November 2016
"Leopard cubs trapped in abandoned zoo could starve to death within weeks," Metro, 8 November 2016
Pictures from Taiz Zoo, Yemen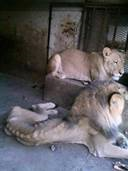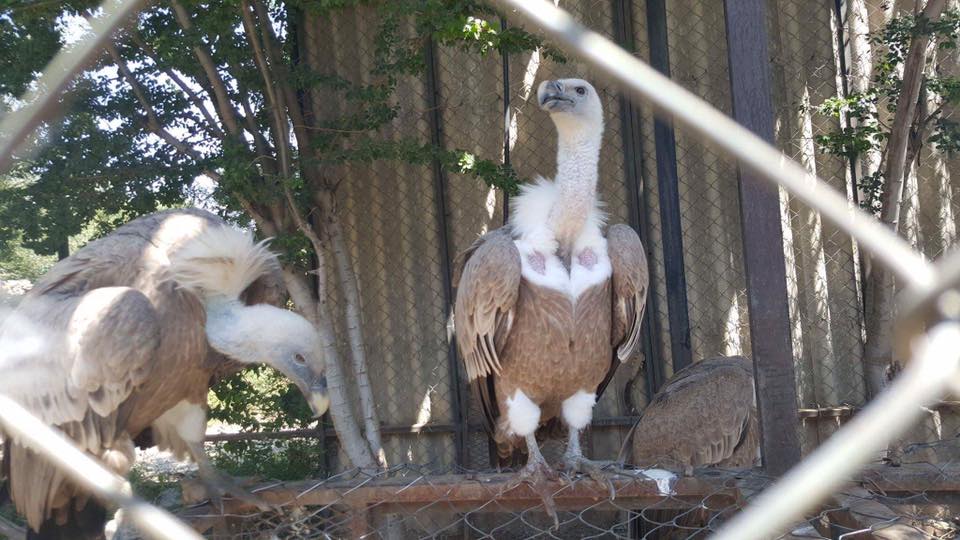 Taiz Zoo Director – Mohammed and guard