The Hunting Trophies (Import Prohibition) Bill, sponsored by Henry Smith MP [draft bill published 23 November 2022] was debated before the United Kingdom House of Commons on 25 November 2022 [Parliament Live TV achieve (10:49 onwards) link].
The bill will encompass the prohibition of import into Great Britain of the "body of an animal, or a readily
recognisable part or derivative of an animal" from thousands of species/sub-species – as listed in Annex A or B [Link Annex A and B Species] of the Principal Wildlife Trade Regulation, subject to exceptions or addition at the behest of the Secretary of State.
The bill was overwhelmingly supported within the House of Commons chamber at Second Reading, 25 November 2022, with the exception of one lone voice, Sir Bill Wiggin MP (North Herefordshire) and since 2006, President of the Association of Professional Shooting Instructors (APSI) (but he only acknowledged this in Members' Registered Interests 1 November 2018). Sir Bill Wiggin MP's arguments in the bill's debate included the absurd suggestion that any persons/country seeking to control its imports should be construed as racist apparently if such restrictions encompass the African continent – the remainder of his 'points' have already been countered and within IWB's submission to the consultation etc. The desperate racist smear suggested by Sir Bill Wiggin MP on those that do not agree with his views is perhaps a new low for the pro-trophy hunting campaign.
We now look forward to the bill advancing to the next Committe Stage, with overwhelming voter support and 86% of those that submitted to the public consultation supporting such a ban, the Hunting Trophies (Import Prohibition) Bill will hopefully receive swift passage through both houses and expedited enactment.
Further Reading
"Hunting Trophies (Import Prohibition) Bill – United Kingdom," IWB, 6 November 2022
"We must end hunting trophy imports for good," The House, 25 November 2022
"HUNTING TROPHIES (IMPORT PROHIBITION BILL) COMPLETES 2ND READING IN PARLIAMENT," Born Free Foundation, 25 November 2022
"Tory MP compares vile trophy hunters to paedophiles as ban passes first hurdle," The Mirror, 25 November 2022
"Tory MP claims ban on hunting trophy imports is 'racist'," The National.Scot, 25 November 2022
"Council Regulation (EC) No 338/97 of 9 December 1996 on the protection of species of wild fauna and flora by regulating trade therein," legislation.gov.uk
"TV rat-catcher Ricky Clark shamed as 'serial killer' of African wildlife," The Times, 23 November 2022
"Tory MP fighting to stop sick trophy hunting imports asks YOU to back his battle," The Mirror, 22 November 2022
"Trophy hunting puts South Africa's tourism industry in peril," World Animal Protection, August 2022 – "Research reveals South African citizens, international, and UK tourists want to see an end to trophy hunting."
The key findings from the research revealed…
84% of international and 88% of UK tourists agreed that the South African government should prioritise wildlife-friendly tourism over trophy hunting.
74% of international and 79% of UK tourists agreed that making trophy hunting a key pillar of policy will damage South Africa's reputation, and 72% (UK 77%) would be put off from visiting the country altogether.
7 in 10 South African citizens agree their country would be a more attractive tourist destination if they banned trophy hunting.
Three-quarters (74%) of South African citizens agree that trophy hunting is unacceptable when wildlife-friendly tourism alternatives have not been fully utilised.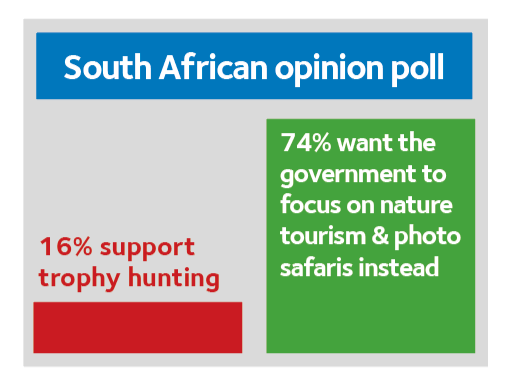 "Trophy Hunting & Britain: The Case for a Ban," IWB, 29 June 2022
"UK Voters Overwhelmingly Support a Hunting Trophy Import Ban," IWB, 14 March 2022
"Why Britain should Ban Hunting Trophies ASAP," IWB, 7 January 2022
"UK Consultation on Hunting Trophies," IWB, 10 December 2021
""We must end this barbaric practice"" IWB 21 July 2021
"New Poll Shows Overwhelming Support for a Total UK Hunting Trophy Import Ban," IWB, 26 April 2021
"Is 'celebrity power' undermining global conservation efforts?," IWB, 21 January 2021
"Safari Club International's plan to colonize Africa's hunting grounds," IWB, Jared Kukura, Wild Things Initiative, 31 October 2020
"Reply-Guys Go Hunting: An Investigation into a U.S. Astroturfing Operation on Facebook, Twitter, and Instagram," Stanford Internet Observatory, Cyber Policy Centre, 8 October 2020
"Informing the Debate on Trophy Hunting," IWB, 17 July 2020
"Call on UK Government – Hunting Trophy Import/Export Ban," 2 July 2020
"Consultation on controls on the import and export of hunting trophies," IWB, 4 November 2019